Kim has been on for ages about organising a little camping trip for her work colleagues. A chance to let their hair down and chill in the sunshine for a long weekend. A month ago as the good weather began I called our usual place and managed to book four pitches, fingers crossed the weather would hold. Fast forward to the friday and it was still mid to high 20s and sunshine as I headed over with a loaded Camper. Within an hour or so I was pitched and in the shower cooling off, before settling down with some magazines and a cold cider or two.
After a while, Kim and Lily rolled along in the Beetle, closely followed by Kims friends Steve and Lynette.
Soon we had various gazebos and chairs set up in the shade and a paddling pool to dip warm toes in.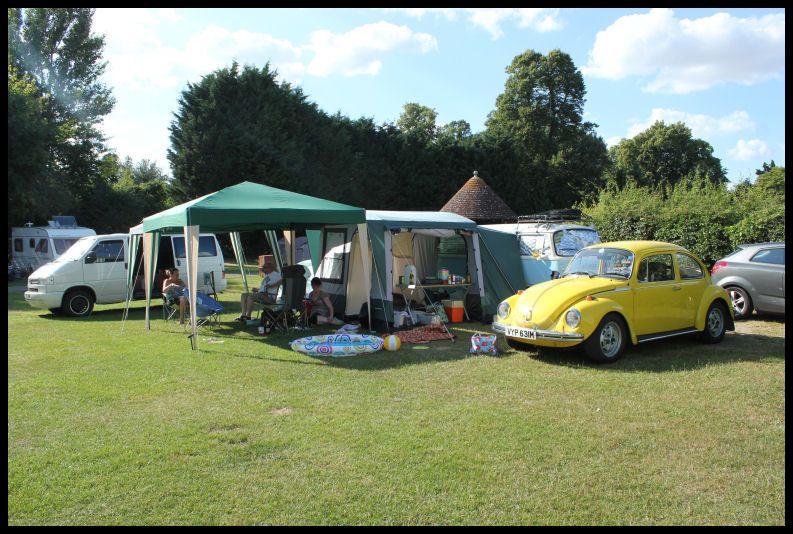 Lily was helping with tent set up and even found time to make several trips to see the campsite tractor.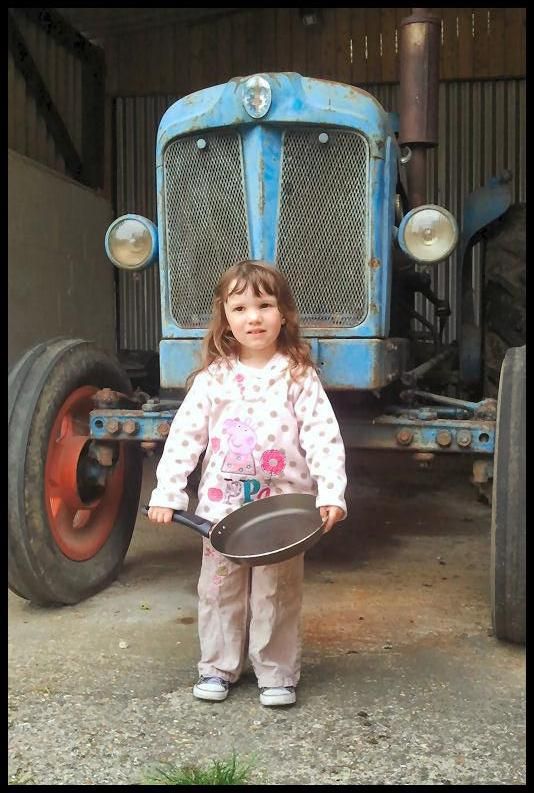 As we lit the BBQ, the last of the campers for the night arrived, Eric and his daughter Dakota, at last Lily had a playmate!
Kims parents also popped by for the evening to drink our cider and nibble on some sausages!
Soon the light faded and the laterns were lit. On previous camps we've struggled to get Lily down, but at 8:30pm, she was ushered into her PJS, round camp for goodnight hugs and crawled into the R'n'R bed of the camper. She was fast asleep in minutes.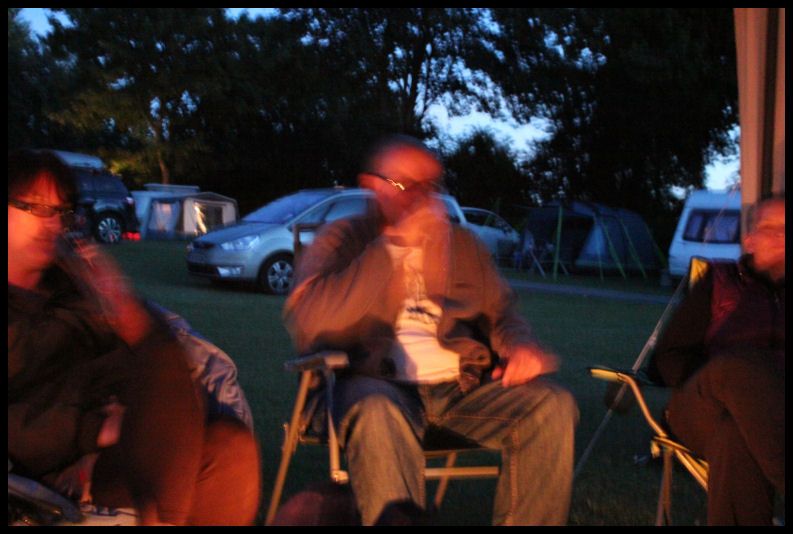 We talked rubbish, drank HoneyJack and ate pringles until it was late, then slowly retired to our beds.
Saturday dawned bright, but with the promise of rain to come. We cooked up a round of porky baps and planned the day.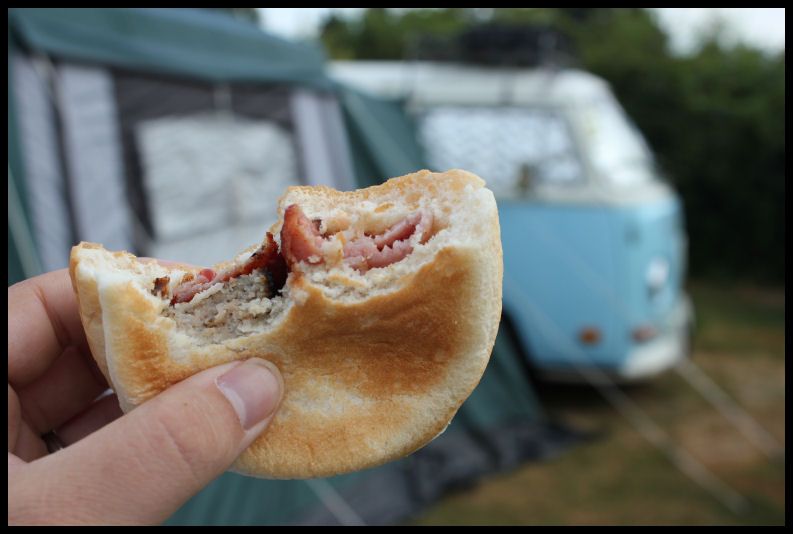 First up was the parachute that Eric had brought along. Lily was bounced high in it, before grabbing a handle and flinging a ball all over the place (we'd like to apologise to the caravan owner whose van we landed on!)
With drinks and snacks packed I led the yomp to the castle, once up on the hill overlooking the town we explored the ruins and did our best Time Team impressions.
We headed back down the hill and into town for some refreshment and to get lunch before the walk back to camp. With constant checks of the weather the rain that was due at lunchtime kept slipping, we would get wet, but when? Eager to not let it spoil the trip we put the A-Team theme tune on and devised a cunning system to link gazebos and awnings together. With tarps and cord, pegs and poles we rigged up a gutter between the gazebos and a joined it all up with the tarp.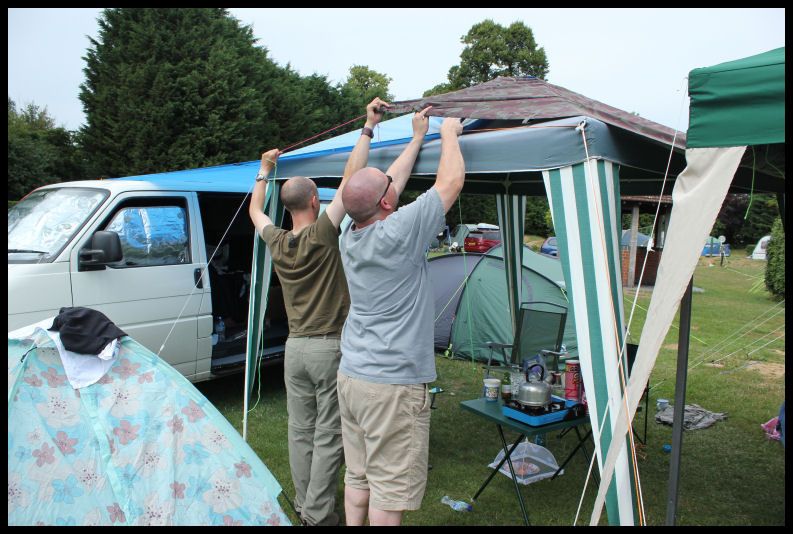 Lily took another trip to the tractor before playing ball with Dakota. The two becoming camp pals for the weekend.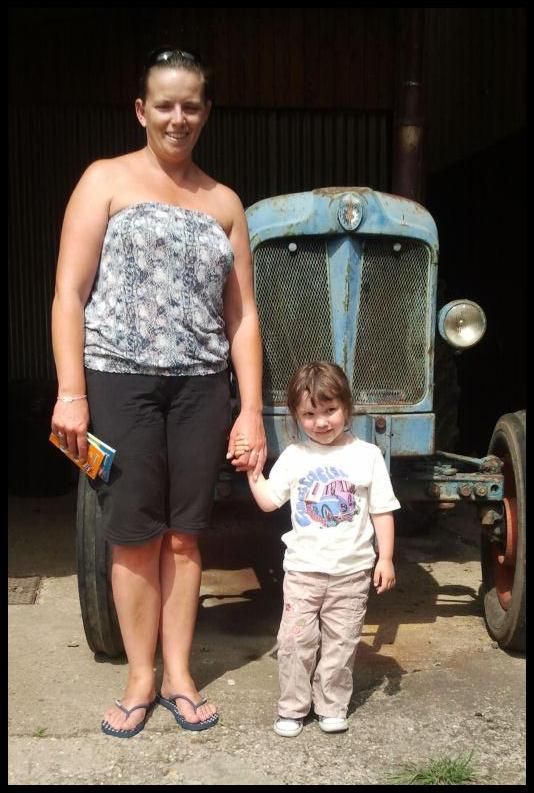 Steve headed home to fetch his girlfriend Izzy, who'd been working and the last campers arrived in the form of the Gills, only half would stay the night though.We promised Lily a splash in the sprinklers at the nearby pool, so wandered over there. Returning an hour later soaked through, but smiling. The water was very cold though! Our cooking plans we're changed, instead of another BBQ, we opted for fish & chips from a nearby shop. The rain began to fall and to our surprise the guttering working like a treat.
Nette and I were despatched to get food and returned with armfuls of sausage, fish, fritters and chips. From the shelter of the uber gazebo we watched the rain come down. After several weeks of high 20s and 30s it was a blessed relief to cool things down a bit.
Spam fritter with batter sausage and chip bap, food of champions!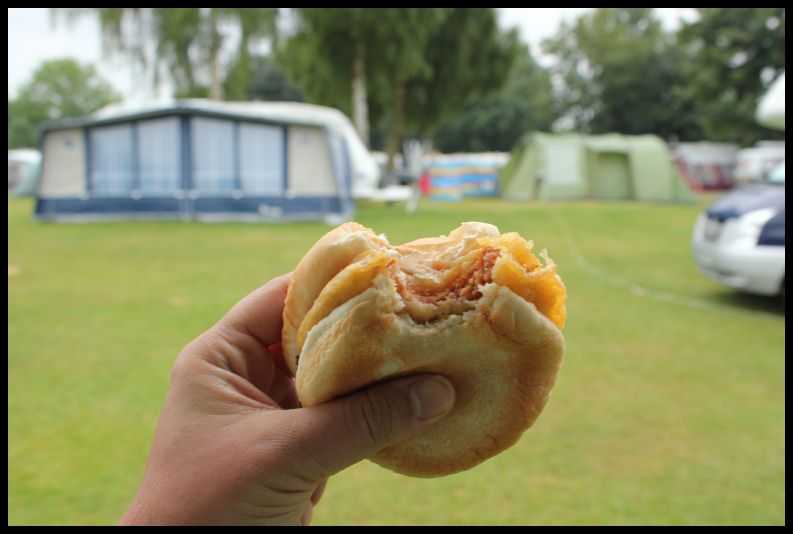 With only the occasional poke from a pole to remove pooled water we kept dry all evening. Lily once more amazed us by going to bed with minimal fuss and sleeping till 6am, proof that fresh air and exercise work wonders. The rest of us nattered until 10 and went our separate ways. A further downpour in the night still didn't breech our defences and we woke to sunshine again.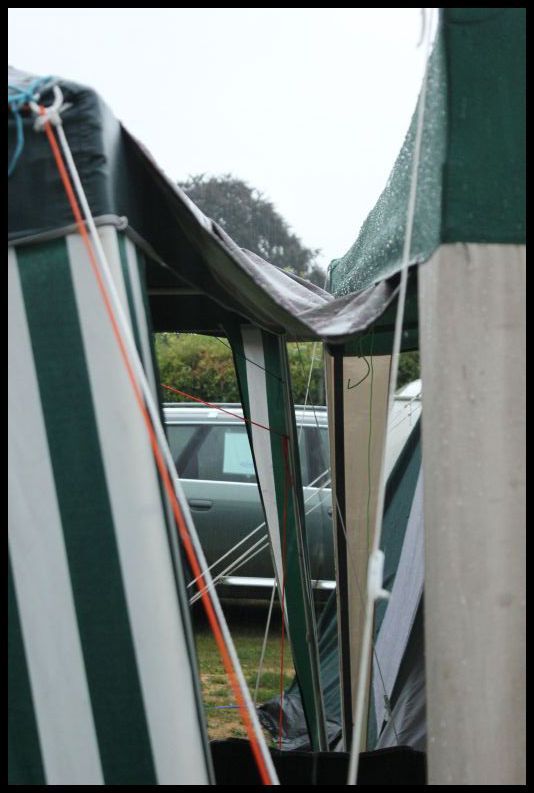 The various gutterings and tarps were taken down to allow things to dry off as we had breakfast, Lily had yet another trip to the tractor, this time towing the recycling in her newly acquired (found under the bonnet of the Beetle) Radio Flyer.
We left the kids using the Camper as a playground and started breaking camp, by now everything was dry, theres nothing better than packing up dry. Saves all the hassle.
With everything away, we said our goodbyes, everyone was still talking to each other and smiling, it was a success!. I followed Kim and Lily out in the Beetle, they were heading for a couple of little parties, I was heading home to unpack.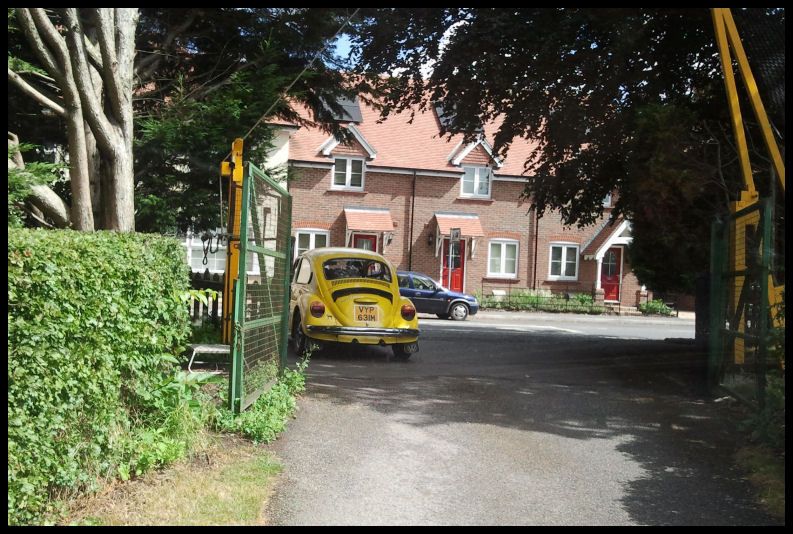 A really nice and chilled weekend away. Good weather (mostly) good food and good company. Same again next year?
Steve.