Whilst flicking round Retro Rides the other day I spotted a thread about the BMW art cars, a series of road and race cars stretching back to the mid 1970s that have been painted by famous artists. I've seen countless photos of them but the chance to see 16 of the17 together was too good to an opportunity to miss. Sometimes work just falls the right way and I had an early morning survey in Greenwich then a collection mid afternoon in Watford. It would mean driving through the middle of London on the hottest day of the year with the Olympics a day away and the traffic in chaos. Luckily I managed to get around the hold ups and found parking near the old Shoreditch NCP.
You enter the exhibition via a vast car lift on the top floor and work your way down, with three cars per level and nobody around to block the view I took in as much as I could and snapped away for half an hour. Starting with Jenny Holzer's V12 LMR.
Finishing off the top floor was Alexander Calder's 3.0CSL, raced at the 1975 Le Mans 24hr race and also the first of the Art Cars
Walking down stairs you are faced with the 535i of Matazo Kayama
Followed by the Cesar Manrique 7 series
And the vivid graph paper covered 3.0 CSL of Frank Stella
The next floor down holds two of the most famous cars, Andy Warhol's M1 and
Roy Lichtenstein's Gp5 320i.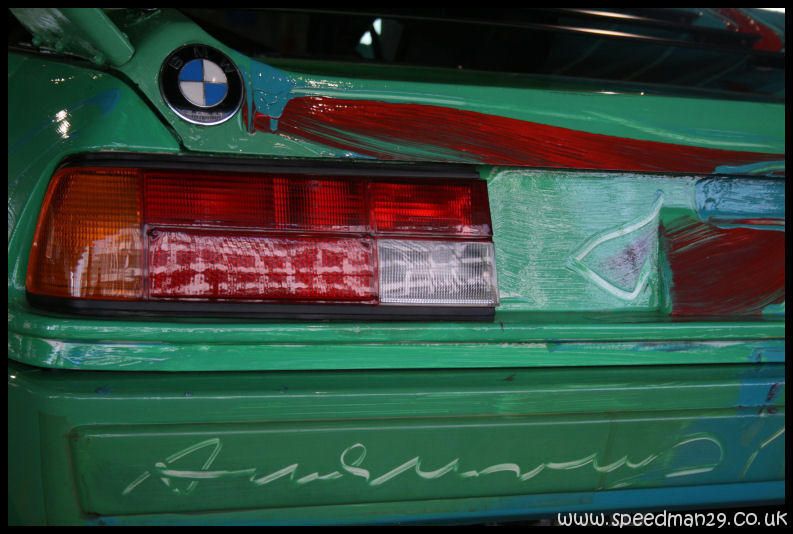 Last on the floor was Robert Rauschenberg's black and white art covered 635 CSi
Moving down a floor again a pair of E30 M3s were present.Ken Done and Michael Nelson Jagamarra the artists.
Esther Mahlangu's 525i was inspired by Africcan tribal art
David Hockney, A.R.Penck and Sandro Chia provided the next floor full with an 8 series, Z1 and an M3 GTR.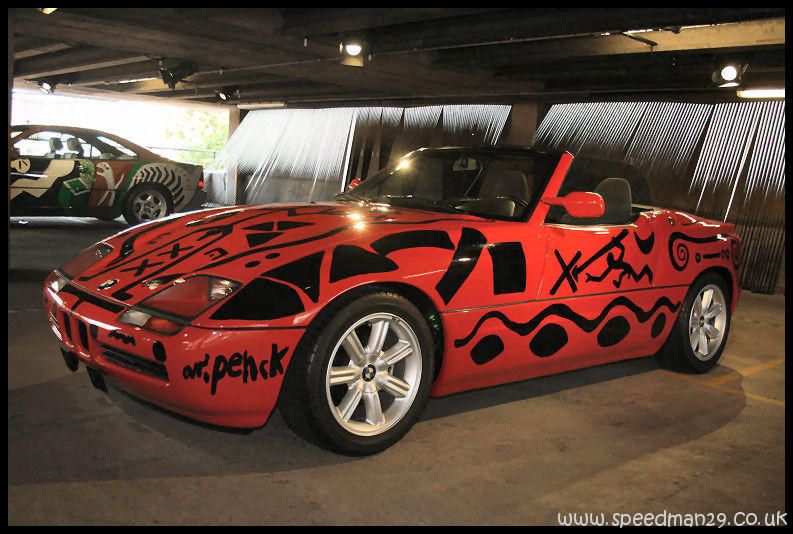 The final floor was taken up with Ernst Fuchs' flamed 635CSi and Jeff Koons M3 GTR that was raced at Le Mans in 2010 and the last of the Art Cars.
It was a whirlwind tour and I doubt I'll get the chance for a longer look anytime soon. I urge any car and art fans to give it a go before they close it in early August. There are loads more photos from the floors here.