Its now seven years since a few of us decided to camp in Wallingford the night before Stonor VW show, we found a site that would have us and have stuck with it, people have come and people have gone but a hardcore of us carried on. This year was the same as the last, in February March time I called the man on site and booked some pitches. 14 of them to be precise such was the response of everyone. £100 secured the area nearest the gate as usual.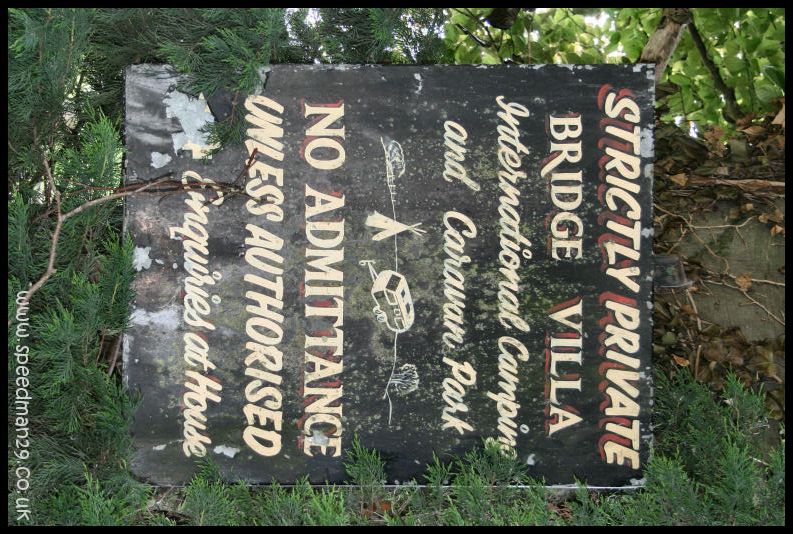 Fastforward to today and we are all home and unpacked. Sadly the massive group started to dwindle, work, life, club politics and the weather getting in the way for over half the group. So on Friday in rain I set off North to the site, the Camper loaded and Kim and Lily coming later in the Passat. The rain eased as I approached the site and sun even tried to come out as I drove in. Gren and Jan were already parked up so I joined them for a natter, by the time I was ready to start pitching the awning the sky was blue and the sun was beating down, sadness turned to a little bit of smugness!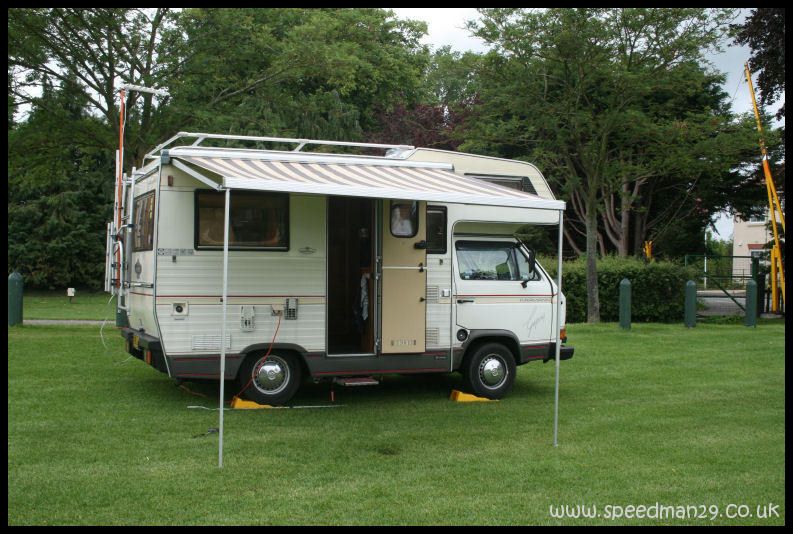 With Phil arriving we set about tents and awning for a bit, supping some potent homebrew cider as we went!
Lily carried out an inspection to make sure all was well and we had the ok to relax for a while.
As the afternoon went on we drank more homebrew, had a kick about and generally arsed about.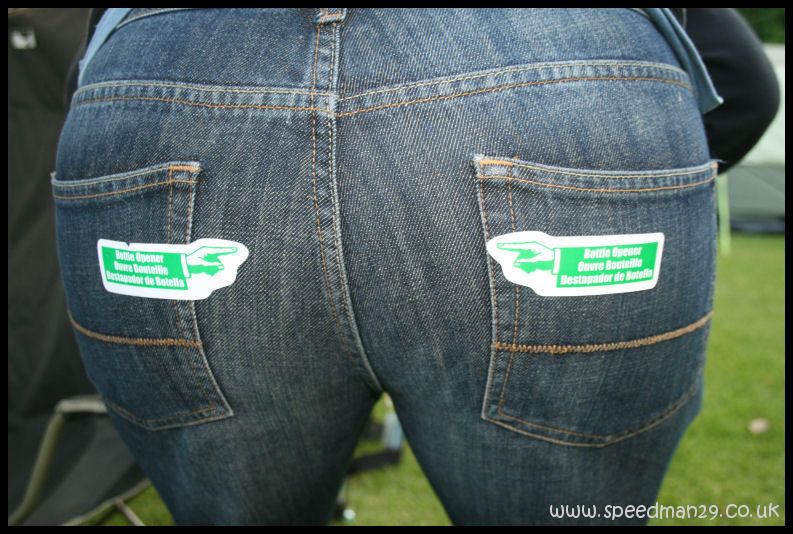 With Alan and Co and Pabs & Babs set up we were nearly all in.
With a Fiona made chilli in our bellies it was time to get Lily to bed and then talk twaddle. I decided to was time to break out the onesie that I got for Fathers Day, once paraded I put my jeans over the top and forgot about it until bedtime, it was so toasty warm wrapped in the finest nylon!
Lily was spoilt with an outdoors story time with Babs, they got through several books before she yawned and was out like a light in the buggy.
The rest of the evening was spent chatting and drinking till midnight.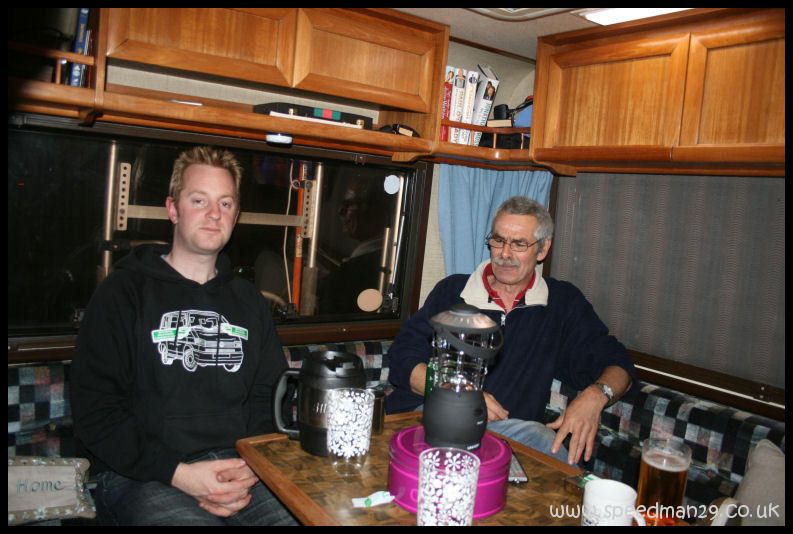 Saturday dawned bright and as sunny as the previous afternoon, the effects of the homebrew took a while to shake off so I was glad of Pabs help entertaining Lily. This tractor was a big hit and we made several trips to see it and had to say goodbye to it twice.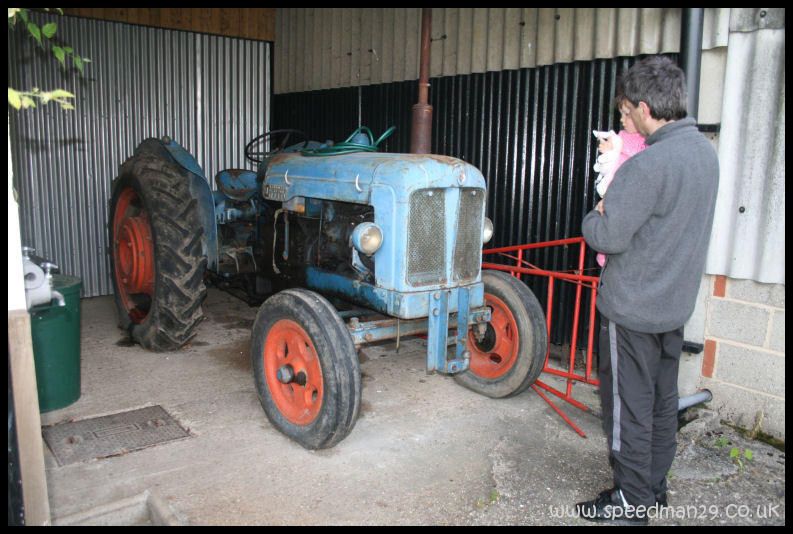 We had an impromptu fashion show from Gren, modelling the latest in designer windbreak ware!
Then it was time for a walk into town, BBQ meat was top of the list and a nose round the shows. On our return Frank and Sammy we there, our camp was complete with just six pitches. Small but perfectly formed.
With Kim and Fiona heading back to town for more shopping in the craft and quilt shops, Phil and I headed up to the castle with Lily for a walk round. Its been there since the 11th century, but this is the first year I've noticed it!
The walk back put Lily to sleep so we grabbed a cold pint and chatted until the girls got back and Malcs and family arrived for a few hours in the afternoon.
We fired up a selection of BBQs and heaved 5kgs of meat from the butcher on to them, there was more than we could all manage but it was so nice, the meat sweats set in!
As the last sausage was eaten the rain started the spit down, we'd been so lucky with the weather there was only one last thing to get out of the way before the predicted storm arrived, the traditional group photo.
We retired to various awnings, a few drinks were had and some footy watched as we struggled to get Lily to sleep, finally around 10pm most people had decided that it was best to batten down the hatches for the night. Around 3am there was some milling around as gathered rain water was pushed off awnings and shades were packed away. Come the morning the sun was back out and the skies blue once more. We opted for a full English in town before the final pack up and goodbyes.
I have decided that its the last year for a Big Wally Campout, the site owner wasn't too chuffed that we took the huge area for so few of us. The rest of the camp was pretty empty so I'm not taking him too seriously, but he has asked for a full deposit for every pitch next year which is more than I'm willing to pay out on my own, I don't know what will happen in 2013, but it will be on a much smaller scale.
I still had an amazing time, with less people it felt much closer and was easier to get round everyone to natter. The people that came made it a wonderful weekend with some great memories.
Steve.
Share