Facebook can be a real PITA sometimes, but most of the time I find it really useful, you get to find out what your mates are up to, including those little advertised shows on a Bank Holiday Monday. I have no idea who Buster is, but he held a show just round the corner from the Krispy Kreme meet we've been to in the past. Buster Lang's 1ST UK All American Classic, Custom & Hot Rod Show looked like it might be a wash out earlier in the week, but the sun came out and were treated to a mini
Wheels Day.
Heading up in convoy with one of Kims work colleagues and his other half, we were a little early so decided to stop for coffee and a snack nearby.
Paying the £10 for the two of us to get in we parked up and headed in, the field had a couple of lines of cars and looked a bit forlorn, but we had high hopes as the steady stream of V8s rumbled in.
These dolls freak me out, I don't get why you'd want to prop a fake child against your bumper, maybe its somebody compensating for not having kids or maybe it's an extra accessory styled to match your ride. Either way its plain odd to me. But if it makes them happy!
This beast from the 1970s was fired up several times and shook the crowds. Good for a 7 second pass it drinks 44 litres of fuel a mile.
This Hillman van was amazing, tubbed rear, massive tyres and a vast V8 up front.
Steve "fisting" a mammoth exhaust.
Having bumped into The JTBs during the morning we then papped the Lawsy's before stopping for a chat, both of them dressed for the day.
Daisy Duke has nothing on our Wendy, proving that dungarees and red checked gingham go really well with a 1960s Charger painted orange.
Stopping for some lunch we braved the Hog Roast, at the time of writing I'm still in full control of my bodily functions, we wait and see if the second properly cooked and far less pink meat filling is going to bug me! By lunch time the field was pretty full, so we headed out once more to explore.
All Yanked out, we wandered back to the car for a sit down and chat before Steve and Izzy headed home. Being hardcore car show attendees and not wanting to miss the raffle draw for a toolbox full of Dukes of Hazzard goodies we hung around (we didn't win!)
Somebody was smiling once more after having a five minute grump, we think tooth number seven annoyed as it pushed its way out, still it made biscuit eating easier.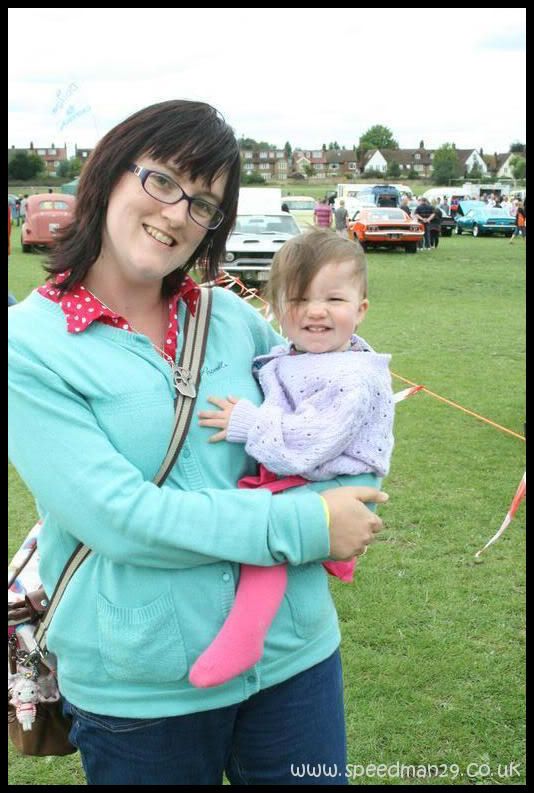 We watched the awards being given out, third prize going to this stunning Buick, my car of the day was this stock non NASCAR Roadrunner. So subtle, but with 383 CU under the hood (6.3litres) it sounded glorious.
And with that we headed home, a brilliant day out with some good friends and some wonderful motors. It hasn't helped my need for some V8 and American on the drive though.
The rest of the photos can be found
here.
Steve.
Share